Negative demonstrations against cruise ships in Venice
Demonstrations took place in Venice on 21 September 2013 against 12 cruise ships that were scheduled to pass through the Venetian lagoon during a busy weekend for tourism in the city. Cruise ships navigated the lagoon before and after the protests. About 100 demonstrators started the day by vandalising the cruise passenger welcome area at Venice's Marco Polo airport: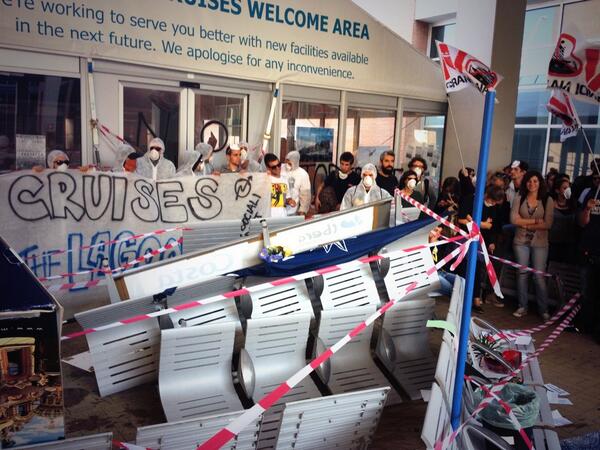 Then approximately 30 small boats attempted to block cruise ships in Venice's Giudecca Canal: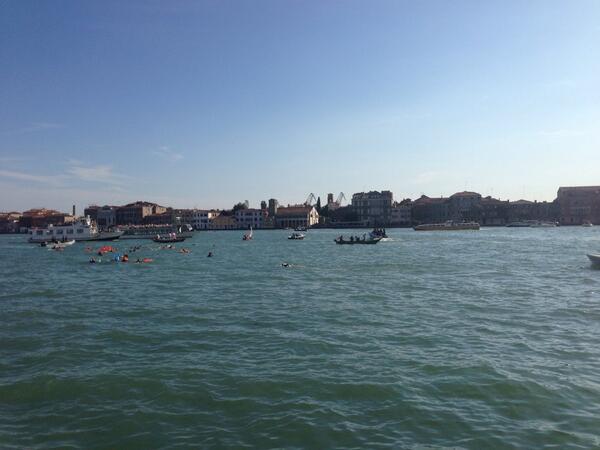 Some people demonstrated from the quay sides: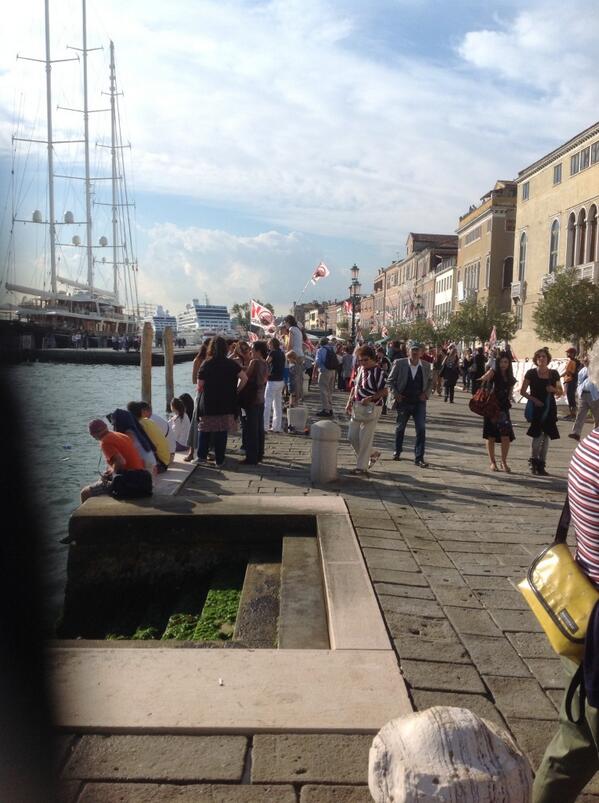 Other protesters formed a human chain in the water against the cruise ships.
Why are these protesters so opposed to cruise ships and the 40,000 cruise tourists they claimed would arrive in Venice over this weekend? The local newspaper La Nuova Venezia put the number at 20,000 passengers plus 8,000 staff and we cannot be sure how many disembarked:
Dodici navi da crociera all'assalto di Venezia
More importantly, why are so many potential customers and visitors such a problem? After all, in 1775 on the evening of Ascension Day 42,480 visitors arrived in Venice after many others had arrived in previous days. In the past, Venetians invented festivals to encourage tourism and welcomed visitors for economic and cultural reasons.
A committee called 'No Grandi Navi' (No Big Ships) organised the day of demonstrations on 21 September 2013. The committee has made several dramatic claims. Under the heading "Big Ships Kill", a leaflet from the committee stated that "In front of San Marco 2000 of them pass a year, Venice is first in Italy for lung cancer." The connection between cruise ships passing St Mark's Square and the causes of lung cancer in Venice is not explained and smoking is not mentioned.
Another title proclaims "Big Ships are Damaging", highlighting that "There are real risks of accidents and attacks in the Saint Mark basin". But there is no reference to accidents or attacks (terrorist?) that have happened in the lagoon basin in front of St Mark's Square.
Many claims against cruise ships navigating the Venetian lagoon have piggybacked on the Costa Concordia cruise ship crash off Tuscany last year. However, as explained in the article published in this link, comparisons between cruise ships navigating the Venetian lagoon and open waters are illegitimate:
Riding the waves of a cruise crash
On Friday 19 September 2013, Venice City Council promised to tighten checks on cruise ships. The No Big Ships committee calls for Venice City Council to quickly find neutral experts to conduct detailed studies of real damage from water movement, loss of sediments, vibrations and noise pollution.
This is unsurprising given the current lack of data proving significant environmental damage caused by cruise ships.
One recent study ('The Future Ocean'), jointly produced by the Italian National Research Council and the University of Kiel, reveals that the speed of cruise ships causes "stress" for the lagoon's bed and erosion, despite regulations limiting their speed. This negative environmental impact from cruise ships is possible. However, the tens of thousands of boat trips by vessels other than cruise ships around Venice every day have much more impact in terms of pollution, lagoon erosion and wave damage to buildings and monuments. These boat trips could be significantly reduced by constructing a subway train system in Venice, which is opposed by most Venetian environmental organisations.
We also need to consider that cruise ships bring significant tourist revenue to Venice during a period of economic hardship. Venice needs to replace its twentieth century model of development based on the industries situated at Marghera with a twenty-first century model of development linked to improving tourism. A ten point plan outlining this developmental model and improving tourism is included in my book
Venice in Environmental Peril? Myth and Reality (2012).
As this book discusses, there are many possible improvements for the management of cruise ships and tourism in Venice. Certainly, it would be better if cruise ships do not dock in front of residents' houses and flats. This particularly happens during significant festivals and the ships block the view and create noise close to residents' dwellings. Yet this problem could be solved by embracing some proposals in my book:
* The construction of a new docking facility for larger cruise ships at Fusina on the mainland side of the lagoon should help reduce docking near residential areas of the city.
* Developing Levante Port to receive cruise ships and improving transport links to Venice.
* Build a docking platform in the sea outside the lagoon where cruise ships could link with smaller vessels transporting passengers into the lagoon.
Rather than campaigning against cruise ships bringing tourists into Venice, we need to embrace tourism to help the city prosper and improve the management of cruise ships.