My latest article on tourism in Venice: 'Mass tourism in Venice: Are city officials overreacting?' Published by The "Good Tourism" Blog
This article was published on 11 April 2023.
It can be read by following the link below:
It is free to subscribe to the above blog, which I highly recommend for many excellent articles. Feel free to share it on social media.
The text of my article is also below:
Dominic Standish April 11, 2023
Tourists should be welcomed and celebrated but in Venice they are facing rejection and even criminalisation, according to long-time Veneto resident Dominic Standish.
Are city officials overreacting to legitimate concerns about mass tourism in Venice? And how might they manage tourism better?
It's a "Good Tourism" Insight initiated by Tourism's Horizon, a "GT" Insight Partner.
[You too can write a "GT" Insight.]
Venice suffered terribly from the collapse of tourism during the COVID-19 lockdowns.
When I walked around the city in May 2020 (when that was permitted), I noticed many closed stores, coffee shops, restaurants, and other businesses.
One shop window displayed something like a death announcement: "Without help we will die. If we open we will go bust."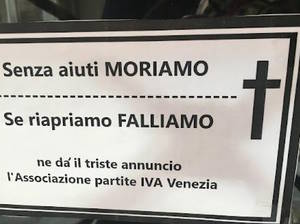 There were still too few tourists to make opening viable for many businesses.
Local press reported that 25% of businesses closed in 2021 due to COVID.
The return of tourists to Venice could be a great opportunity to rejuvenate the city.
However, knee-jerk policy-making risks squandering this opportunity.
Mass tourism in Venice, the day-tripper's 'Disneyland'
The principal culprit is Venice City Council and especially its Mayor, Luigi Brugnaro.
The Council and Brugnaro made a rash decision after an estimated 140,000 people visited the city on Easter Sunday 2022 followed by nearly 100,000 on Easter Monday.
The next day Brugnaro announced that day-trippers would have to make reservations to enter the city from the summer of 2022, and pay to enter from 2023.
Extensive protests by Venetians against these measures took place on November 19, 2022 and legal challenges against restrictions on free movement have been launched.
Many Venetians are unhappy about how the measures would turn their city into a gated 'Disneyland' and discourage visits from friends and relatives on the mainland.
Fortunately neither of these measures have been implemented. Both were suspended by a Venice City Council vote on December 23, 2022.
In my experience, most of the post-COVID upsurge in day-trippers were Italian, not foreign. Nevertheless, it was unsurprising that they were targeted.
Day-trippers to Venice have historically been depicted as having a negative economic impact as compared to tourists who stay in hotels and eat at restaurants.
Local officials seem insensitive to the fact that day-trippers may lack the funds to stay and eat in the city. Charging and limiting the numbers of day-trippers would discriminate against poorer tourists.
Mass tourism in Venice, the fine city
In addition, while tourists in Venice have been discussed as environmental hazards for decades, in recent years they risk being criminalised.
Venice City Council has a list of forbidden behaviours, including sitting on the ground or on steps to eat or drink, and walking around bare-chested or in a swimsuit.
'Offenders' face fines of EUR 25 to EUR 500 plus a ban from the city.
These have been enforced. As I explained during this 2019 Al Jazeera programme about 'overtourism', fines have been issued for sunbathing in a bikini in Venice's public gardens and for pushing, not riding, bicycles through the city.
Even locals have been fined.
Foreigners' 'crimes' might also be reported to the police and embassies of their countries of origin.
Criminalising victimless forms of behaviour that have no negative impact on others could discourage visitors.
Mass tourism in Venice, the maritime republic
Tourists have also been turned away through the decimation of the cruise business.
There have been minor accidents with cruise ships in Venice, particularly when one crashed into a tourist boat on June 2, 2019, injuring five people.
Since August 1, 2021, by government decree, ships of more than 25,000 tonnes, taller than 35 metres, and longer than 180 metres have been banned from navigating the Giudecca Canal through the centre of Venice.
This effectively prohibits vessels carrying more than 200 people from navigating to the maritime station in the city centre.
It has also threatened the jobs of more than 4,000 employees.
Many of these employees held protests, which received much less media coverage than protests against big ships in Venice.
Since 2021, a limited number of cruise ships have docked outside the lagoon at Chioggia port. Others have been able to navigate through to docks close to industrial areas.
Recently, plans were floated to restrict use of the central maritime station to luxury yachts, relegating less privileged sea goers to views of industrial zones.
Might infrastructure make Venetian life better?
For many years I have argued for the construction of a dock for large vessels outside the lagoon on the Lido. Government decrees in the spring of 2021 called for consultations on such a dock.
An underwater subway train system linked to the docks could transport passengers in and out of Venice as well as to other islands in the lagoon and the mainland, spreading the economic benefits of tourism.
Several proposals for a subway train system running under the lagoon, alongside the city, and stopping at the airport have been mooted for decades.
A subway would not only benefit tourists, but also residents, students, and commuters, and could also transport cargo. It would reduce overcrowding in Venice simply by providing an efficient means to move people and produce from one place to another.
Moreover, a subway would reduce demand for boat traffic, as well as cut down on the damaging waves, noise, and pollution that some boats produce.
As set out in the ten-point proposal in my book about Venice, many changes could be made to improve Venice for multiple city users. This includes the long-overdue completion of the mobile dams, which have nevertheless already prevented floods over 110 cm on the tide gauge since January 2021.
There are undoubtedly problems associated with mass tourism in Venice. However, there are also more tolerant, progressive, and development-oriented ways to manage it than to reject and criminalise the city's visiting admirers.